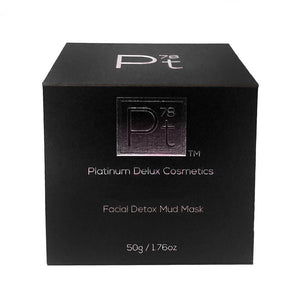 Facial detox mud mask platinum delux®
Regular price $450.00 $250.00 Sale


DESCRIPTION
FOR GLOWING CLEAR SKIN
Indulge your skin with the ultimate Detox Mud Mask. This exceptional product is specially formulated for facial spa-like treatments done at home. By minimizing pores, reducing wrinkles, and improving overall complexion. Facial Detox Mud Mask pulls oils and toxins out of the skin providing relief from acne, blackheads, pimples, acne scars, and cellulite. 
FULLY SAFE TO USE
Facial Detox Mud Mask is made of herbs, flowers, organic compounds, sulfates, humic- and fulvic acids, vitamins, and essential oils that are all naturally occurring. Treat yourself to a deep cleansing, medical-grade, therapeutic quality with bioavailable minerals. So our Facial Mud Mask is totally safe for daily usage without any side-effects. 
DIRECTION FOR USAGE
Apply our Facial Detox Mud Mask generously in a circular motion onto the face avoiding the eye area, leave for 5 - 10 minutes, and then rinse with warm water. This Platinum Mud Mask leaves your face feeling exfoliated, purified, nourished, and clean.
Caution: Avoid contact with eyes. Keep out of reach of children. For external use only.
Specifications:
Product Type: Mud Mask
Ingredients: Natural
Usage: External
Removes: Acne, Pimple, Oil
Features: Wrinkle Removal
Ingredients: Silt, Kaolin, Carthamus Tinctorius Seed Oil, Glycerin, Bentonite, Magnesium Aluminum Silicate, Platinum, Cellulose, Xanthan Gum, Phenoxyethanol, Ethylhexylglycerin, Caprylyl Glycol, Hexylene Glycol, Platinum Extract, Fragrance.
Platinum Delux is highly committed to our customers, we stand behind our products and customers. Our ultimate goal is to satisfy each and every customer, from the moment you purchase our products throughout its lifetime.

The Facial Detox Mud Mask Platinum Deluxe® is evocative, to say the least, but that's why you're drawn to it in the first place.

Inventory Last Updated: Feb 09, 2021